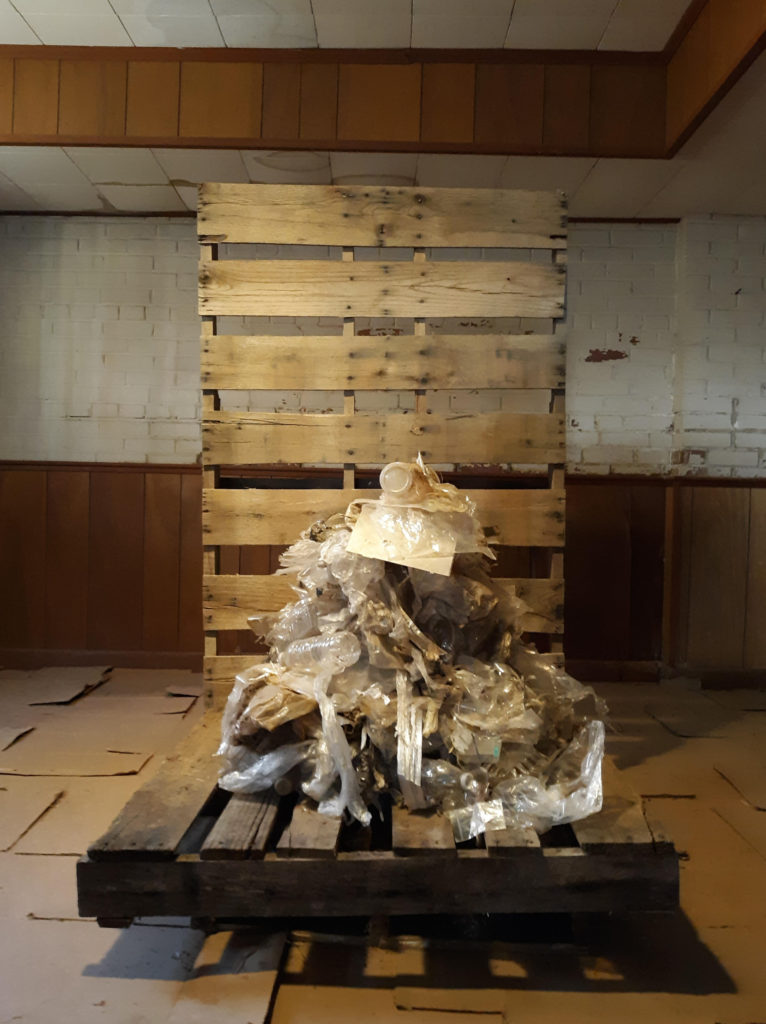 Calvin Brett
General Labor
February 8 – March 16, 2019
Opening Reception and performance: Friday, February 8, 6 – 9pm
General labor is an installation about unskilled work.
Inspired by nature and following intuition, Calvin Brett creates trash agglomerations to display the aesthetic qualities of items gathered from public spaces. Through the creation of "lumps" and other sculptural groupings, he questions our relationship to consumption, waste, and reuse. He exhibits trash as artifact, ultimately reflecting the negative effects of capitalism today. The installation will include a performance by the artist on February 8, 6 – 9pm.
"I'm interested in the creative capacity of entropy. Inspired by nature flourishing from it's own discards, I work with trash to emulate this intuitive process through gathering and arranging garbage, from public spaces to interior consumer spaces. My work inside and outside the studio is a form of organized general labor. I'm a slave to my own desire for overconsumption. I'm a criminal and victim, perpetuating the degeneration of our environment. I delusionally dream of becoming a hero, symbolizing the answer to our worlds problem with waste. Sometimes i'm a maintenance man, but everything I touch tends to decay. In this exhibit, "lumps" are displayed next assemblages, to show the inherent aesthetic quality of discarded items. Set on pallets in a cardboard room, the display symbolizes the process which brought these objects to consumers. These lumps serve as shrines reflecting contemporary society through artifacts as things once containing value until eventually they were considered waste." —Calvin Brett
Calvin Brett's exhibitions include Boston Museum of Fine Arts, Boston, MA; Heath Gallery in Harlem, NY; Warehouse 21 in Santa Fe, NM and Elsewhere, Greensboro, NC. Brett attended The School of The Museum of Fine Arts at Tufts University in Boston, MA. His work is held in several public collections including The North Carolina Central University's Art Museum. He was recently awarded residencies at Liberty Arts, Durham NC and at Chautauqua Institution, Chautauqua NY. Selected press includes Art F City, Indy Week, Mechanical Dummy and a interview on KGZR 98.9 Santa Fe about processes in assemblage.