FLICK, PAPERBACK, SOUND
While you're sequestered, look at the bright side. Time suddenly feels like it did when you were ten. It yawns. It drags. It lays bare, huge swaths of itself. That's an awful prospect when you're a kid, but knowing what you know now, consider the luxurious reality of having the time to catch up on that back log of entertainment you've been wishfully adding to for years. Through HIT LIST, Team Lump will share its entertainment favs with you. We're talking about essential material that has, in some part, defined our culture, both high and low. So, if your watch list is depleted, you're sick of hearing that nagging ear worm, or you just ripped through the last of the Travis McGee pulp series, then check in every Friday for an ever growing list of movies, books and music that are readily available, and wholly satisfying.
FLICK is curated by Lump's director, George Jenne, who also hosts Mystery Meat, a bootleg film series
at Attic 506 in Chapel Hill, every second Friday.
PAPERBACK will have a different curator each week.
SOUND is curated by musician Devon Tuttle.
Week Nine:  June 14th
FLICK
Ganja and Hess, 1973, directed by Bill Gunn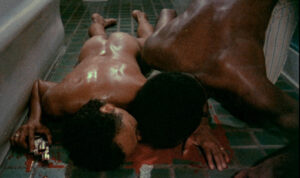 There's no way to pin Ganja and Hess down because it defies every expectation you might have for the exploitation horror flick that it's promoted as. It's about a wealthy anthropologist, Dr. Hess Green (played by Duane Jones of Night of the Living Dead fame) who is a vampire. Hess falls in love with his dead assistant's widow, Ganja Meda, played by Marlene Clark (Billy D Williams' wife at that time, in the real world). Its director, Bill Gunn was an African American playwright and novelist who, when approached to make this movie, had no interest in doing a vampire movie, and instead used the trope as a metaphor for addiction. The result is an exceptionally weird horror, romance that undercuts the unrelenting whiteness of the vampire myth and lampoons, with almost no effort, the painfully Eurocentric Hammer vampire films of the fifties and sixties. This film has everything you need – gospel, sex, blood, intellectual digressions, mesmeric slow motion photography, and the best gratuitous penis shot in film history, outside of porn. 
Throughout Ganja and Hess it feels like Gunn is expressing contempt for even the notion of a genre film, let alone, one that might be categorized as "blacksploitation." If you look at other work by Gunn, you begin to see that he refuses to be reduced to one kind of artist with a single mission in mind, particularly in an era when most people expected an African American artist's mission to be centered purely around race. In his 1964, autobiographical novel, All the Rest Have Died, his protagonist, Barney Giffords (the initials are no accident) spells it out, saying, "I am not concerned with what I am racially. I am nothing and I am everything; I am a part and I am all. I am only concerned with what you think I am, and how it affects you and your approach to me. I do not trust labels, or names. I do not trust people who pass out titles and categories to keep racial order. I am racially disorganized, my blood had been invaded by blood that is also mine. There is no part of me that came first. I am the rapist and the raped. I am victimized and I am responsible. I bear it all and will have nothing to do with any of it. It is you, remember. It is all yours, the guilt and the pity. I am only the excuse." – GJ
PAPERBACK
Transbluesency, Selected Poems 1961-1995, by Amiri Baraka
selected this week by artist/writer Chris Vitiello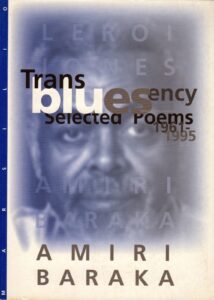 READING IS A PART OF ACTIVISM.
Baraka never pulled a punch in his life and wrote terrific plays and collaborated with jazz musicians. He was controversial too – his poem "Somebody Blew Up America?" was criticized as anti-Semitic… and defended as anti-Zionist… and prompted the governor of New Jersey to end the poet laureate program for the state since he couldn't legally fire Baraka from the post. Baraa was a giant and wrote fucking HARD. Get his books and seek out video online of him reading with musicians behind him. – CV
SOUND
Tito – Quetzalcoatl (especially "Pecado y Muerte")
Los Wembler's de Iquitos – La Danza Del Petrolero
Ranil y su Conjunto Tropical – Las Oladas
(This post was meant to happen three weeks ago, so forgive the nonsensical opening, which made perfect sense when the ground was saturated. – Lump)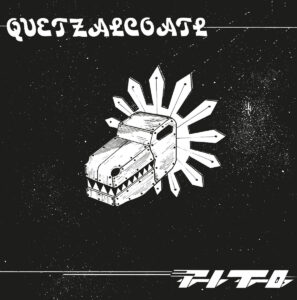 Okay, one week of rain behind us…and another week of rain lies ahead. Rather than immersing myself and you, dear readers, in languid overcast vibes again, I aim to straight-up vaporize the clouds with flaming-hot HEAT from the Equatorial South. First up, we have a triumphant rascal of an album by Tito, a "progressive band" from 1977 Mexico and currently a favorite gem, mined from one of many late nights trawling YouTube. In its sub-30 minute expanse, Quetzalcoatl completely rewires my perception of Mexican music; It's cinematic and psychedelic, tender, odd and improbably sprawling despite being a patchwork of cosmic synth vignettes. Interestingly, while drinking deep from the full album (easy and recommended), I started to notice subtly repeating themes which makes me wonder if this is a concept album of sorts. As this is the sole release from the band Tito, and the lone release on the Discos Tixbi label, and the band personnel is unclear, the story of Tito is a total mystery to me and I absolutely love it that way.
Next stop is Iquitos, the capital of the Peruvian Amazon and home to smoldering, essential Cumbia outfits Los Wembler's de Iquitos and Ranil Y Su Conjunto Tropical. The first thing that grabs me upon seeing Los Wembler's second album La Danza Del Petrolero is the outrageously sultry cover image. Straight out of the gate, the listener is pulled into a sweltering deluge of raw, incomparable Cumbia Amazonica. The titular first track is utterly undeniable. Thank Earth Mama that we live in a time when records like these have been uploaded to the web; they're both so precious and scarce that *if* one were able to chance upon a copy in the wild, it'd easily cost several hundred dollars, if not more (I'd certainly be willing to skip a few dozen meals and/or a month's rent). I know I said early on that I'd try to avoid turning these entries into an obituary, but I'd be remiss if I didn't mention that brothers Jairo and Emerson Sanchez, founding members of Los Wembler's, and Ranil singer and founder Raúl Llerena Vásquez sadly passed away recently due to complications with Covid-19. Keep Peru and the whole damn global fam in your hearts and jam these artists mightily. Send them up to glory by gyrating to their music with wild abandon, just as they damn-well intended.
Tito – Quetzalcoatl (especially "Pecado y Muerte") https://www.youtube.com/watch?v=DcTSdRP0fEg&t=769s
Los Wembler's de Iquitos – La Danza Del Petrolero https://www.youtube.com/watch?v=D82WVRTzWQU
Ranil y su Conjunto Tropical – Las Oladas https://www.youtube.com/watch?v=Eb5u9FoCYBk
Week Eight:  May 22nd
FLICK
Seconds 1966, directed by John Frankenheimer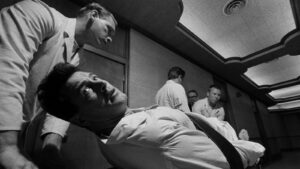 This movie is one of a kind. For its star, Rock Hudson, and its director, John Frankenheimer, it represents an expansion of risk that goes well beyond what was, at the time, deemed reasonable for two Hollywood establishment super egos. The endeavor is a blend of science fiction, noir and horror that aims beyond the conceptual expectations of those genres.
In it, a wealthy banker pays to be "reborn" by an underground identity reconstruction boutique that quietly caters to the miserable, rich. The all expense payed package gets him a fake death (cadaver included), extreme facial reconstruction, in-depth psychiatric evaluation and placement in the new life of his dreams with every detail fully considered. It's a great premise; so weird and implausible that all is forgiven even as the jowly, sour, fuddy-duddy, played by John Randolf, enters the procedure with much trepidation and comes out as Rock Hudson in his glorious, middle age prime.
The mood runs heavy in gothic tone. Deep focus shots, lensed by the famous James Wong Howe, emphasize fractured spaces and paranoid glances. The tension between then and now is immediate, on multiple levels. The banker's (now painter's) true past keeps creeping into his fabricated history, hinting in retrospect at Rock Hudson's off-screen double life. A brooding church organ oozes ancient phrases from Bach in the background. Groovy, wide angle lenses render Hudson as an uptight, nineteen-sixties conservative, suddenly free, but unrecognizable to himself and incapable of embracing his liberty. In fact he clings unnervingly to his sense of duty to his real self. The one that was detached, mediocre. The party pooper. And the harder he tries to merge his two identities, the more he jeopardizes both existences. It is the ultimate pulp fiction take on existential crisis, with a finale twist that would make Rod Serling either jealous or proud.
-GJ
PAPERBACK
Hollywood Babylon, by Kenneth Anger
This week's selection comes from artist/hedonist, Norman Gaille.
This is THE classic compendium of old Hollywood scandals, written by child actor turned underground queer film legend and occultist, Kenneth Anger. Perversion is his forte, and this book is without question a necessary addendum to his films. It's pretty outdated by today's standards for shock, but it's still wonderfully trashy, irreverent, sensational, and a lot of times, outright false. What I love is that all of the shit that Anger made up in this book, or rumors that he recounted without checking a single fact, are now ingrained in Hollywood urban legend. That's a serious legacy, better than any painted masterpiece, sitting in moth balls in a stuffy museum. Read it in one sitting, then give it a place of prominence on the back of your toilet for your friends to discover when they're squatting, vulnerable.  -NG
SOUND
Bobby Beausoleil – Lucifer Rising
Kali Malone – The Sacrificial Code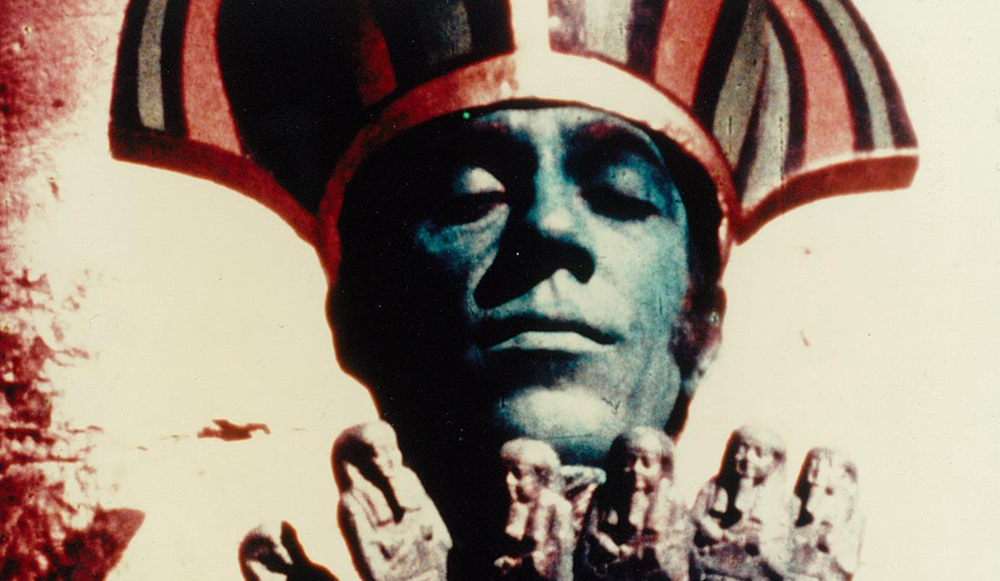 Inspired by the onslaught of overcast days this week, I've been diving deep into the dirge. The first selection is a procession of raw, lysergic New Age (or, perhaps more aptly, "dark age") cuts (truly no pun intended) from Bobby Beausoleil, infamous member of the Manson family, and perpetrator of what would be the first in the Manson-related murders of 1969. While incarcerated in the 1970's, Beausoleil formed The Magick Powerhouse of Oz band and arranged a score for Kenneth Anger's film Lucifer Rising a perfect sonic amalgam of arthouse and grindhouse inclinations, Beausoleil's kaleidoscopic score sprawls from medieval waltzes and dreamlike nocturnal synthscapes to lush psychedelia and acid-fried desert rock. While I'd prefer to not give Beausoleil this credit, what makes Lucifer Rising so compelling to me is its perfect distillation of the atrophying countercultural crescendo of the late 60's, the Generation of Love's proverbial fall from grace in which Beausoleil played a leading role.
Minimalist composer Kali Malone, on the other hand, offers a refreshing foil to Beausoleil's lurid legacy, though it would be all-too-convenient to describe her resonant incantations as a silver lining in contrast to Beausoleil's sinister saga. While blissful to some extent, her compositions truly carry every bit as much, if not more psychic gravity than the works of Beausoleil, without the aid of infamy. In the monolithic meditations of The Sacrificial Code, Malone's time-bending sonic expanses are masterfully imbued with an improbable breadth of emotion. A collection of works for solo pipe organ, Malone utilizes precision recording techniques that eliminate the characteristically colossal presence of the instrument, and further mutes the "gestural adornments and spontaneous expressive impulses" that so often pervade hegemonic, composer-centric musical histories. An indescribable catharsis manifests in The Sacrificial Code's ego-free assertion of personal expression- it is the first in what I assume will be a long line of masterworks from Malone that beckon for the uninterrupted company of your ears. (Further listening: Sarah Davachi and Éliane Radigue). -DT
Bobby Beausoleil – Lucifer Rising
Kali Malone – The Sacrificial Code
Week Seven:  May 15th
FLICK
Dream Deceivers: The Story Behind James Vance vs Judas Priest, 1992, directed by David Van Taylor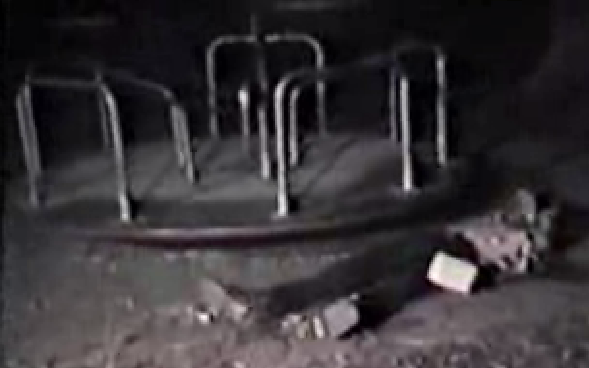 This is not an uplifting movie. It is a morbidly fascinating, true story that, if you were a teenager during the Eighties, will echo in your memory, either as a disturbing news broadcast that came and went, or if  you were into Heavy Metal, as a legendary tale about the demonization of popular music.
In 1985, Ray Belknap and James Vance carried out a suicide pact in a churchyard after listening to Judas Priest's version of "Better By You, Better Than Me," by Spooky Tooth. Ray succeeded in killing himself, but James did not, and he was grotesquely disfigured. The boys' parents mounted a law suit against Judas Priest, claiming that the band had buried subliminal messages in their recording of the song that urged the impressionable young heshers to "Do it." The film is about that lawsuit, which was resolved years after Vance died of an apparent methadone overdose. You'll see a stark clash of world views, compounded by ignorance and hubris on either side of the suit. Everyone comes off as a bad actor. In fact, the music in question is the only testimony that doesn't reek of cynicism, when played back, ad nauseam, as lawyers attempt to convince the judge the he too is hearing the damming hidden words. Instead, his honor looks puzzled and slightly annoyed, as the plaintiffs, like zealots, try to squeeze blood out of a stone. But if we, as artists, hope to understand how to fully respond, beyond being reactive and self righteous, to the discomfort and fear that our weirdest, most imaginative and unsettling ideas spur, then this flick is mandatory viewing. -GJ
PAPERBACK
Wolf in White Van, by John Darnielle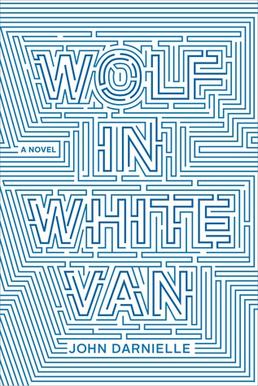 This week's PAPERBACK is for those of you who watch Dream Deceivers and feel it necessary to dip into more hopeful territory. Strangely, the remedy comes from the same story. This time it's told with stirring empathy and a ton of forgotten, Eighties cultural references, in Wolf in White Van, by John Darnielle. In his impressive first crack at a novel, Darnielle spins an engrossing and beautifully understated story around Sean, who is loosely based on James Vance. Sean is living on his own, years after his suicide attempt and the blame that followed, sustaining himself, financially and socially, through a mail-in subscription, role playing game he invented, called Trace Italian. He is also fighting his own lawsuit, by the parents of two kids who took Trace Italian literally and acted out seemingly innocuous instructions that got them killed.
Sean expresses a myopic world view that protects him from normal life. He follows a kind of private manifesto that guides him in existing safely alone as a freak, without succumbing to his sense of unyielding isolation. His tactics for basic sanity are simultaneously the instrument of and the logic that seeds the world of Trace Italian – a place of his own making and the only place that he can fully bear.
-GJ
SOUND
WITCH – Lazy Bones!!
Drakker – Drakker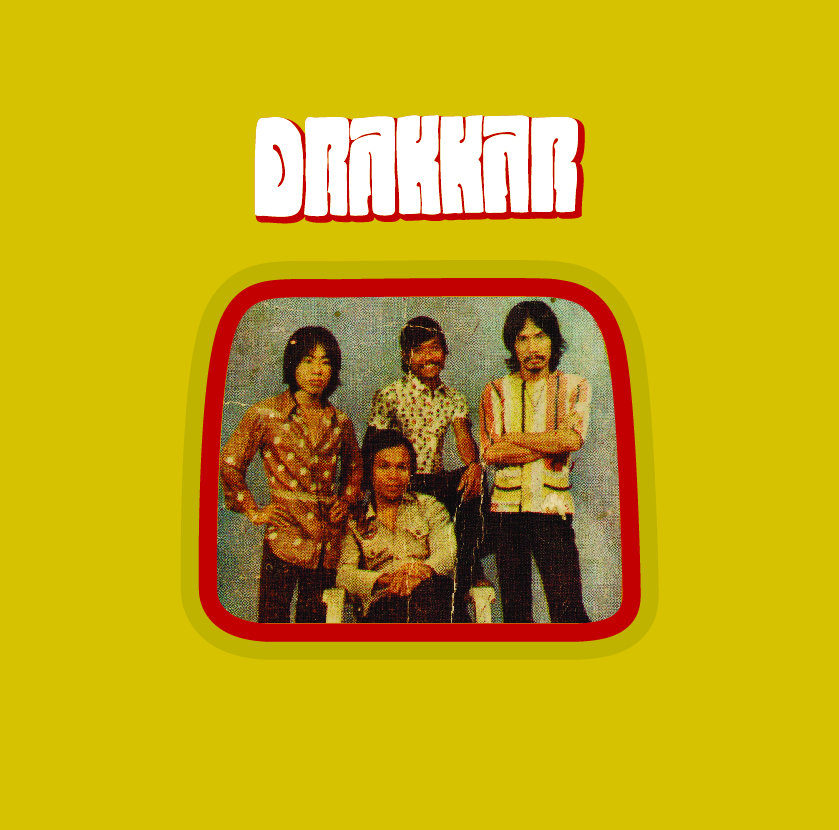 "If you're feeling depressed, low, disturbed, irritable, out of sorts, sad, frustrated or wildly demented,  then folks we suggest you seek out a quiet place, indulge in some soothing meditation and cut away  that headache by listening to this inspirational album. To those of you who have been unkind and deliberately troublesome, we suggest you go jump in the lake specially featured for you on our cover." – Liner notes for Lazy Bones!!
This week I've chosen two records that exist against all odds– psychedelic sounds, heavy rockers and acid-tinged folk jams that were forged in the far stretches of the globe, in the shadows of volatile political factions, plagued by limited technological resources, raging health crises and desolate economic conditions. These records are manifestations of a radical and singular ambition to create in spite of impending oblivion. We Intend To Cause Havoc is the eponymous manifesto of W.I.T.C.H, formed in post-independence Zambia in 1973. Lazy Bones!! is the third and perhaps strongest entry in the stellar catalog of these Zamrock pioneers. While this record is a testament to the harder-edged African take on fuzzed-out American heavy rock, it is also infused with a fiery optimism that definitely
sets WITCH apart from some of their more blunt-force contemporaries. Frustrated by a tense political climate that clamped down on their ability to perform, WITCH's original lead singer, Emanyeo "Jagari" (née Jagger) Chanda quit in the late 70s to reportedly lead a quiet, pious life as a teacher. By 2001, the other original members had all sadly succumbed to the AIDS epidemic, though thanks to
deep-diving collectors and the spell-binding spirit of WITCH, these mighty jams rage on. Drakkar was an essential, shape-shifting outfit in the mythic Phnom Penh music scene in Cambodia. They channeled Western rock and soul, pumped into Cambodia via U.S. armed forces radio that had been broadcast to troops stationed nearby during the Vietnam War, mutated and interlaced it with traditional idiosyncrasies, and created enduring psychedelic sounds that seem almost plucked from another dimension. From 1972-1974, despite limited technology to do so, as well as ever-present conflict and strict curfews, Drakkar recorded a self-titled album that serves as an essential document of Cambodian rock & roll, as well as a tragic and timely precursor to the tragic years ahead. By 1975, under the rule of the Khmer Rouge, Drakkar and their contemporaries were forcibly disbanded in an effort to eradicate Western influence in Cambodia. While the more fortunate among them were forced by the regime to play patriotic music, others were forced into labor camps, and others simply vanished in the midst of the Cambodian genocide. For a closer look at the triumphs and tragedy surrounding this music, I highly recommend the illuminating and heart-wrenching docs "WE INTEND TO CAUSE HAVOC" and "Don't Think I've Forgotten." -DT
WITCH – Lazy Bones!!
Drakker – Drakker
Week Six:  May 8th
FLICK
Fresh, 1994, directed by Boaz Yakin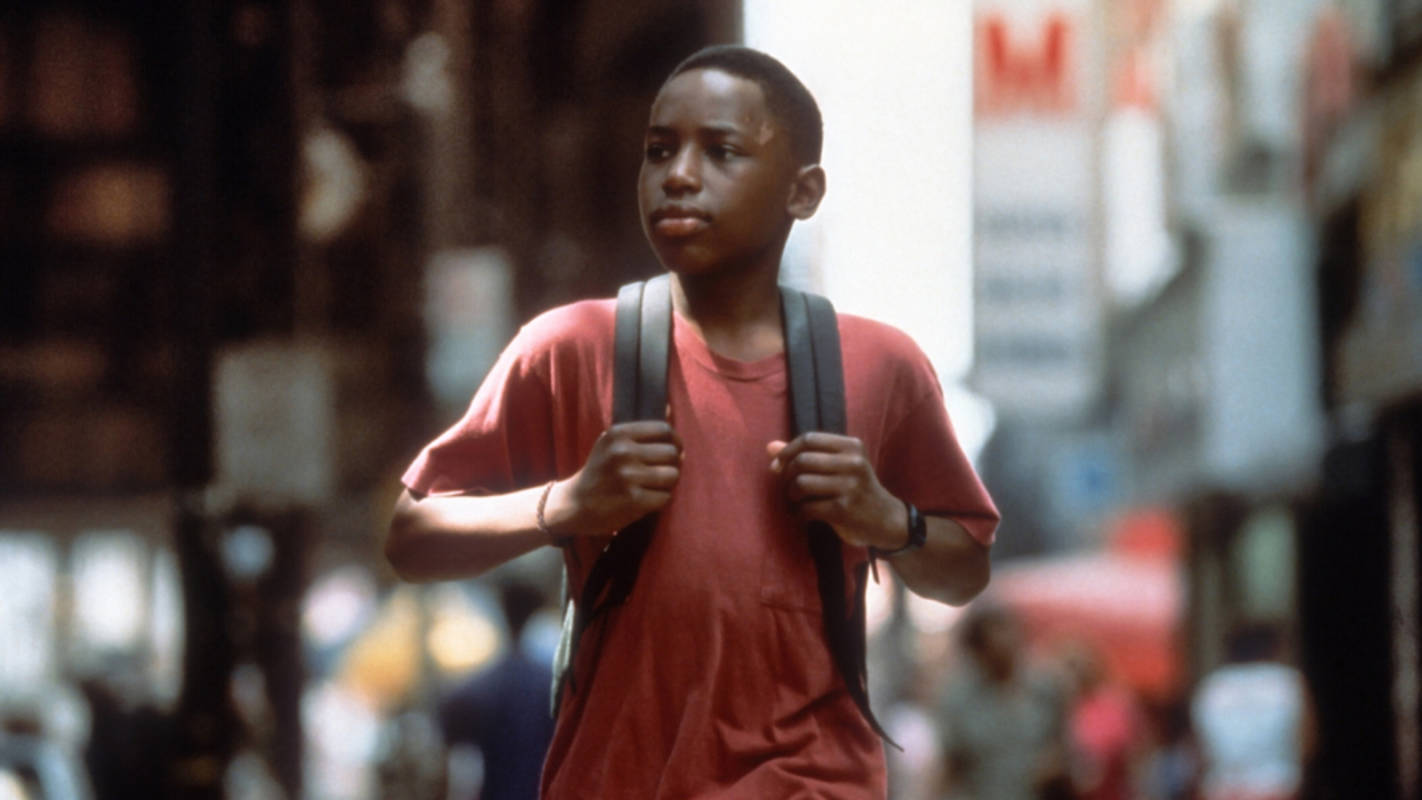 Fresh is a tight little movie that few people know. Its obscurity is a bit quizzical, considering the film's first rate cast – heavy hitters like, Giancarlo Esposito and Samuel L. Jackson, both of whom are upstaged by a thirteen-year-old, newbie actor, Sean Nelson, whose gravitas in the lead role is anything but pint sized. That it has been relegated to the back of the distribution catalog might have something to do with the fact that it rode the, "life in the hood" wave of movies that peaked in the mid 90's, then receded quietly, as slightly bigger budget, much more sensational flicks of that era, like, Boyz n' the Hood and New Jack City, started to feel deflated and silly; or in the case of Boyz, condescendingly preachy.
But Fresh is infinitely more intelligent than those movies, by a long shot – and crafted with vastly sharper consideration. It follows Fresh, a twelve year old drug dealer whose day-to-day takes place in an unrelenting pressure cooker. If you have any capacity for empathy, you'll feel a stomach ulcer forming, from the start. Despite his age, Fresh seems always to be the smartest person in the room, and his greatest advantage is that he is chronically underestimated by the corrupt, exploitative adults around him. So, using strategies that he learned from his city-park-speed-Chess-champion-dead-beat father, Fresh brilliantly and systematically clears every one of those adults out of the way, practically without lifting a finger.
There's a Hitchcockian quality to Fresh, with its subtle twists and turns. It's as if you're watching a long form magic trick unveiled. If you've ever seen a live magic show, you know that every illusion is performed with a joke or two. In Fresh, the punchline to the trick is sobering. It reveals a child who has been forced to forego his childhood. As with any sleight of hand, the joke's on you. -GJ
PAPERBACK
The Collected Stories of Lydia Davis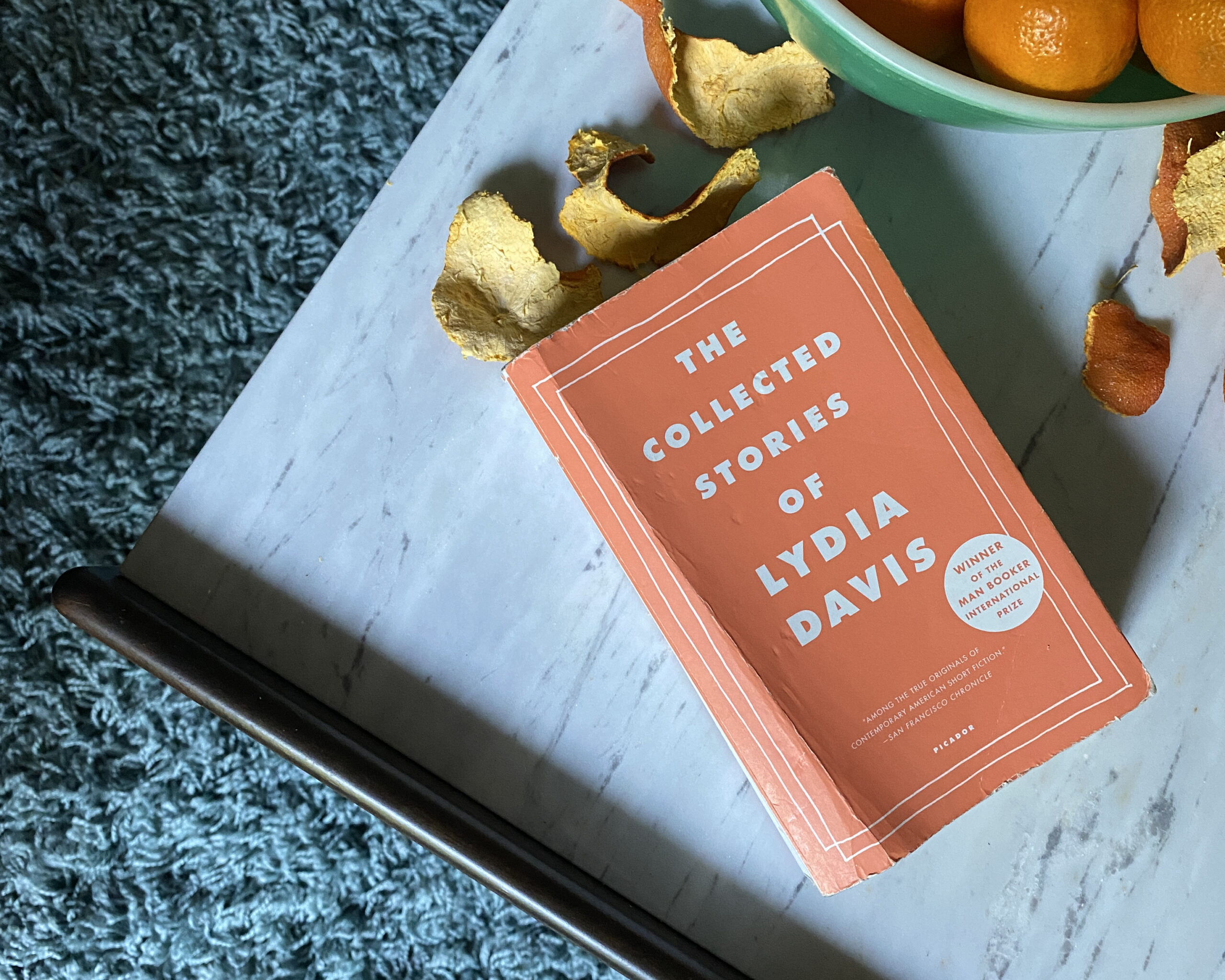 Curated this week by Lindsay Metivier
Many of us read books to escape the reality of our day-to-day lives. I sometimes read for solace or boredom, and other times just want to be taken out of my own head and life and placed into someone updates else's while I wait for my mug of Sleepytime tea, and/or glass of whiskey, and/or shot of NyQuil to kick in at the end of the day.
Recently, feeling a little fractured and uncertain, I picked up The Collected Stories of Lydia Davis again, a book recommended to me by my good friend Ernie several years ago. A master of brevity, Lydia Davis's short stories range between a few words to several pages. All gems full of dark humor, the mundane, and acute observations. She gets to the core of the meaningless meaning of life and gives the most banal moments a kind of epic weight. I want my photographs to do the same. On the surface her stories are lucid, sometimes piercing, sometimes funny, sometimes not so funny – added together, they develop a kind of ruthless honesty and an insight into the tortured way our minds work.
I encourage all to take these in small doses – one or two before bed – and let your brain work through the magic of Lydia Davis's stories as you sleep. You'll wake up more awake for having done so – although at times these stories are so cerebral that you become almost painfully conscious of just how alone in your own mind you actually are. -LM
SOUND
Connie Converse – I Have Considered the Lilies
Connie Converse – Talkin' Like You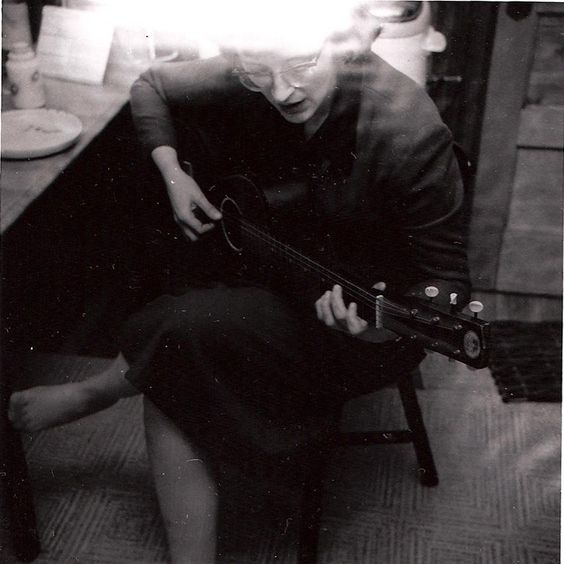 This week's theme: "Consider the lilies" or, "Unsolved Mysteries." I'm no Robert Stack, but I can appreciate a good unsolved mystery as much as the next bored-at-home binger. Take for example Connie Converse, the pre-Dylan progenitor of wry, idiosyncratic and deeply personal folk in the early 60's Greenwich Village scene. Reclusive and utterly bemused by the trappings of "normal" life, Converse penned a small but nevertheless poignant rucksack of songs about withdrawing from the world – songs that went largely unheard until the early aughts. Decisively, after a short-lived stint as a songstress and in the midst of a crumbling personal and professional life, Converse wrote to her family, laying out a plan to ensure that her bills and other responsibilities were taken care of and urging them to grant her the freedom to disappear: "Human society fascinates me & awes me & fills me with grief & joy; I just can't find my place to plug into it. Let me go. Let me be if I can. Let me not be if I can't." Disappear she did, and nearly a half a century later her fate remains a mystery. As bombastic as he was prolific, Peter Ivers, on the other hand, bumped elbows with both the megastars and fringe figures of the mid-70's. Despite never quite grasping commercial success for himself, Ivers wrote songs for the likes of Diana Ross and The Pointer Sisters, and hosted New Wave Theater on the USA Network, introducing bands like Dead Kennedys, FEAR and Suburban Lawns to a broader audience. Ivers' proclivity for the experimental caught the attention of burgeoning auteur David Lynch who notably tapped him to score Eraserhead, leading to perhaps his most enduring hit (?) 'In Heaven (Lady in the Radiator Song).' In 1983, Ivers was murderously bludgeoned in his apartment by an as-of-yet unknown assailant. Although both "Acid King" (and infamous narc) David Jove and Ghostbuster Harold Ramis were initial suspects (yeah, really), his murder remains a mystery. -DT
Selected listening:
Connie Converse – I Have Considered the Lilies
Connie Converse – Talkin' Like You
Week Five:  April 24th
FLICK
Vanishing Point, 1971, Dir Richard Sarafian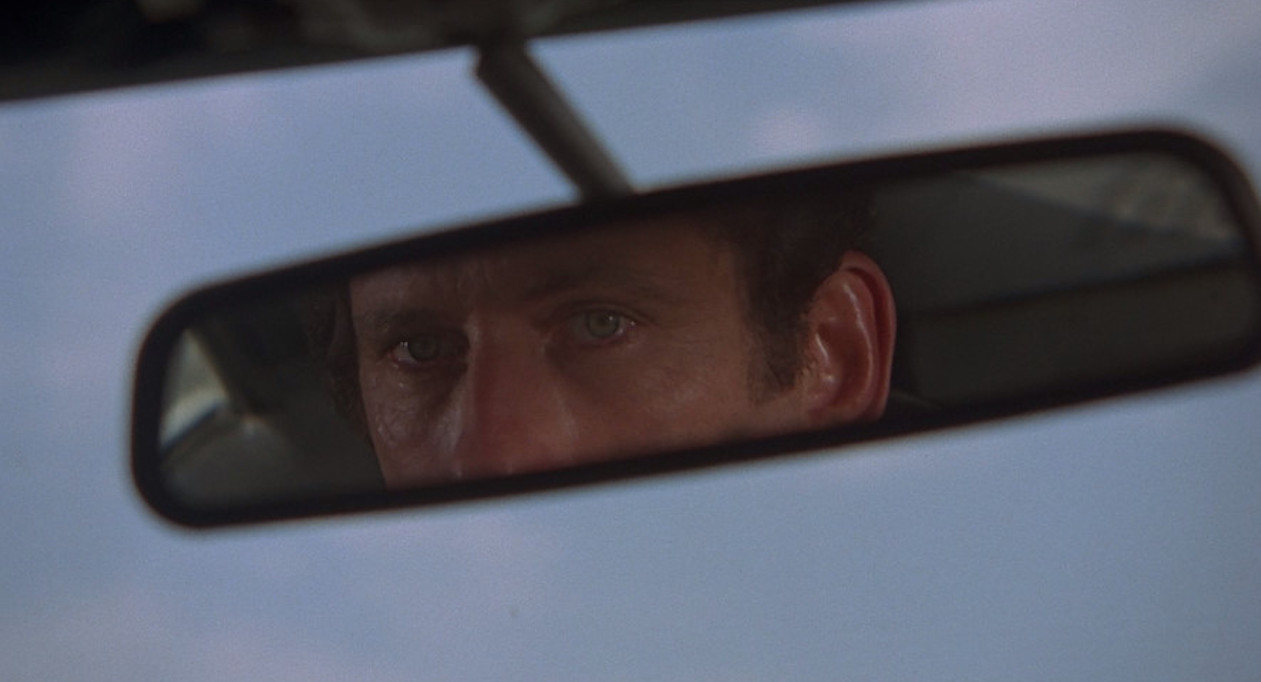 I was saving Vanishing Point for Mystery Meat, at Attic 506, in Chapel Hill, but then there was a virus. So, I'm going to share what I wrote, as I wrote it for a rooftop viewing, where the movie remains unknown until the first frame rolls. This one is tough to find in streamable form, but there are hard copies available, and I'd argue that it's worth the purchase. Do not fall for the ol' bate and switch and accidentally watch the 1997 remake. Here we go…
Tonight's Mystery Meat is surprisingly understated, considering the cult status of its high octane fuel guzzling hero. It's important to note the distinction here between hero and protagonist. The protagonist in this flick is a quiet man, who, at his introduction, is at best lukewarm in every respect. He looks bored. He moves without urgency. He has no charm and exudes only a hint of gravity that could just as easily be malaise. But when he climbs into the hero, a stock MOPAR muscle car, to deliver it to the other side of the country in record time, the protagonist glows a little. And what happens when a motorcycle cop threatens that glow, by waving indignantly for protagonist to pull hero over? The car accelerates – urging the man's boot to the depth of the footwell. They stop only to guzzle more fuel, or hide under a pile of branches, or let the man pee and re-up on bennies. Everything else is as meaningless as the stoic profile of the car, or the blank expression on the man's face.
But somewhere during this flat out burn through one panoramic landscape after another, a switch happens, and the man begins to fully radiate everything that he seemed to lack, while the car, with its white base coat, now dull with dust and showing innumerable dents and dings, starts to recede to the back of the stage. A blind radio dj evangelizes the man's awkward name over the air waves. Public enthusiasm for the man builds to fever pitch. People come out in droves just to see him whip by at 120 miles an hour. And so, traveling at unsettling speed with relentless determination, and a newly bonded "everyman" aura, the protagonist evolves into the hero. And when the duo meets a bleak demise, it's not the car's name that rattles around in your mind as the credits role. It's the man's name. It's Kowalski. – GJ
PAPERBACK
Stony The Road, by Henry Louis Gates, Jr. (hardcover)

Curated this week by Michael S. Williams, founder of Black On Black Project
The book that has been on my mind a lot lately and one that I see parallels in its content to what we're seeing today is Stony The Road: Reconstruction, White Supremacy and the rise of Jim Crow by journalist and Harvard Professor Henry Louis Gates, Jr. Yes, kind of a heavy topic. But these are heavy times.
Folks may be familiar with Professor Gates because of his Emmy Award-winning films and PBS specials on ancestry, Reconstruction and more. But he was also a member of the first class awarded "genius grants" by the MacArthur Foundation in 1981. This book is so vital because it's a very plain look at Reconstruction (1865 to 1877) and Redemption (1877-), in which white supremacy broke apart the gains made during Reconstruction and caused many of the negative effects that we continue to see today.
The title of the book is taken from James Weldon Johnson's poem "Lift Every Voice and Sing," or as it has been referred to by the NAACP and others as the Black National Anthem.
Highlights that continue to stick with me: The political gains made by African-Americans during Reconstruction Professor Gates points out that during his period (Reconstruction and part of Redemption), roughly two thousand black men served in office at every level of government, including two United States Senators and twenty congressmen. That included Hiram Revels (Republican from Mississippi) who was born in Fayetteville, N.C., who took office in the Senate in 1870. He was the first African-American to serve in Congress. It also included George Henry White, who served North Carolina's 2nd congressional district between 1897 and 1901. He was the last African-American to serve in either house of Congress until 1929.
Propaganda that started during the Redemption period
The book has a ton of images that show how some people viewed African-Americans and how some wanted to keep a negative, inappropriate and unfair perception alive. To help shape the thought process of some whites, Redeemers used imagery to not only sway political elections through political cartoons but also to sell products.
Remember D.W. Griffith's The Birth of a Nation from 1915? Yeah, the film President Woodrow Wilson screened at the White House. You may not know it was based on a work called The Clansman by Thomas Dixon Jr. from a decade earlier about the KKK. Gates breaks down the impact of the film on culture and also the film industry. The book also shares origins about well-known household products like Aunt Jemima's pancake mix and Uncle Ben's rice. Professor Gates unpacks those images and the psychology behind them.
Overall, Stony the Road gives great historical context and is worth the time. It will add to one's understanding of how and why so many things are like they are today. – MSW
SOUND
The Howard Hanger Trio – Through a Glass Darkly
Paul Church Jr. – Just Passing Through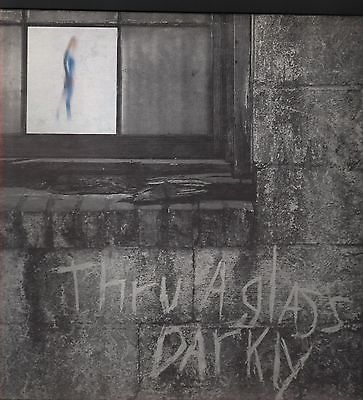 In an effort to rip the veil off of snooty, gatekeeping record collector culture, and offer a listening experience that few people have had, I've digitized two scarce private releases from my collection that are near and dear to my heart and also (as far as I can tell) unavailable online. Based in Asheville, NC, pianist and band leader Howard Hanger comes from a long line of Methodist ministers who left the denomination in order to continue to officiate same-sex ceremonial unions (Howard), oppose the Vietnam War (father) and promote civil rights (grandfather). Through a Glass Darkly (1970) is an anti-establishment take on sacred music, and though it could simply be lumped in with other spiritual jazz albums, its strengths really lie beyond the typical pop covers (Dylan and the Beatles, ugh) of the first quarter, into the drum-heavy, hard-bop-leaning middle section and unsettling tape collage finale. Released in 1983, Just Passing Through is a meditative Craig Leon-esque New Age odyssey that uses synths, crystals (yep), piano, and various percussive elements to pleasantly puncture space//time. These are refreshingly not-entirely-mellow standouts from the otherwise pious, rosy canon of New Age/ spiritual music, and now you can listen to them without having to be a dope that shells out $50-100 for a record! Unroll the wizard scroll and listen with adventurous ears. – DT
The Howard Hanger Trio – Through a Glass Darkly (Shit begins to get real between 15:08-21:06, then totally hits the fan at 27:39.)
Paul Church Jr. – Just Passing Through (Highlights: first track, last track at 35:07.)
Week Four:  April 17th
FLICK
Paper Moon, 1973, directed by Peter Bogdonavich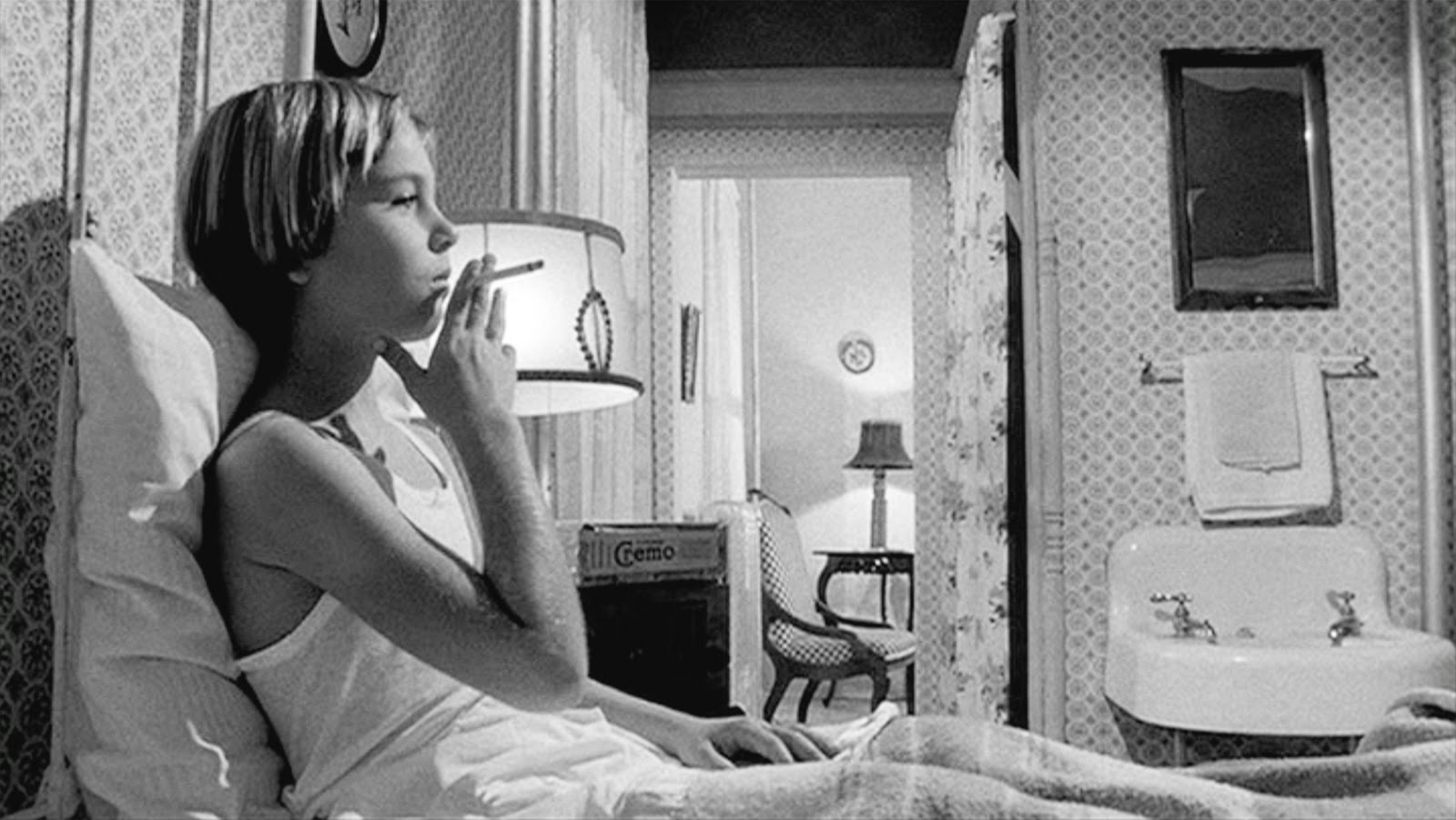 This is my all time, absolute, number one favorite movie. I can't say enough about this flick, so I won't say much… except that it is likely to have contributed to the ruination of its 8 year old, Oscar winning star, Tatum O'Neal, and that it was photographed by László Kovács, who, in the 1960's, defected from the Hungarian People's Republic only to become the best damned cinematographer of 1970's Hollywood. The film is heartfelt and dark and hilarious, and the sound mix is so wonderfully sparse that it feels like it was made in a vacuum. That's a good thing. You'll love it. I promise. – GJ
PAPERBACK
Against Nature (À rebours) by Joris-Karl Huysmans
Selected by artist and Lump founder, Bill Thelen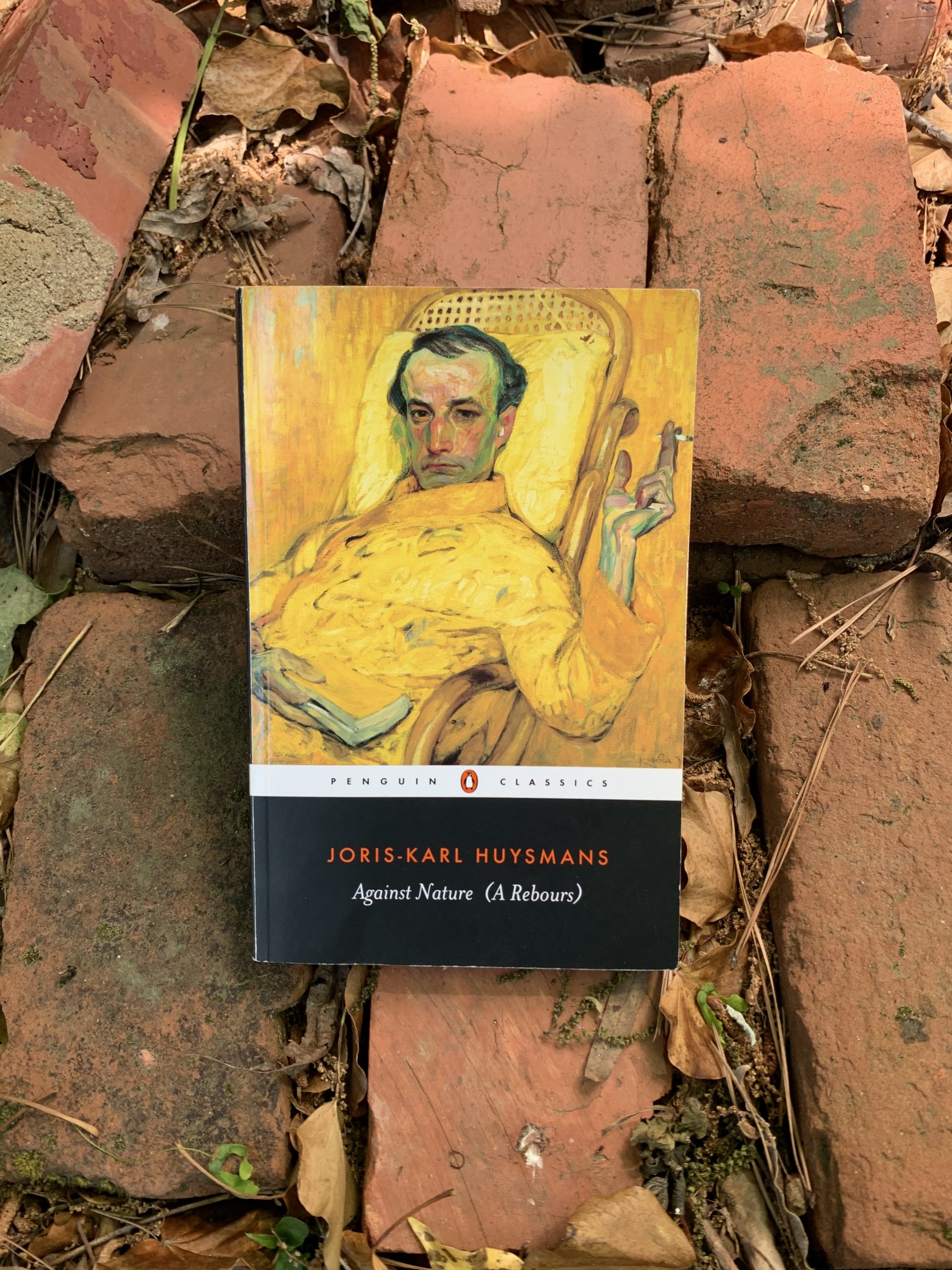 The book I recommend for our current quarantine plague is Against Nature/Against the Grain or À rebours (1884) by the French writer Joris-Karl Huysmans. This is the third time I've read it. The book focuses on its one and only character, Jean des Esseintes, who retreats into self-isolation in the country-side outside of Paris in the late 1880s. This is not Walden. Esseintes rambles on and on ala Proust, rather fussily about literature, aesthetics, color theory, religion and his loathing of the bourgeois all while trying to create the ultimate art installation. In the process he accidentally kills a turtle in the most decadent of ways and this book is said to have inspired Wilde's Portrait of Dorian Gray. Not for the faint-hearted. – BT
SOUND
Arthur Verocai – Arthur Verocai
Arthur Russell – First Thought Best Thought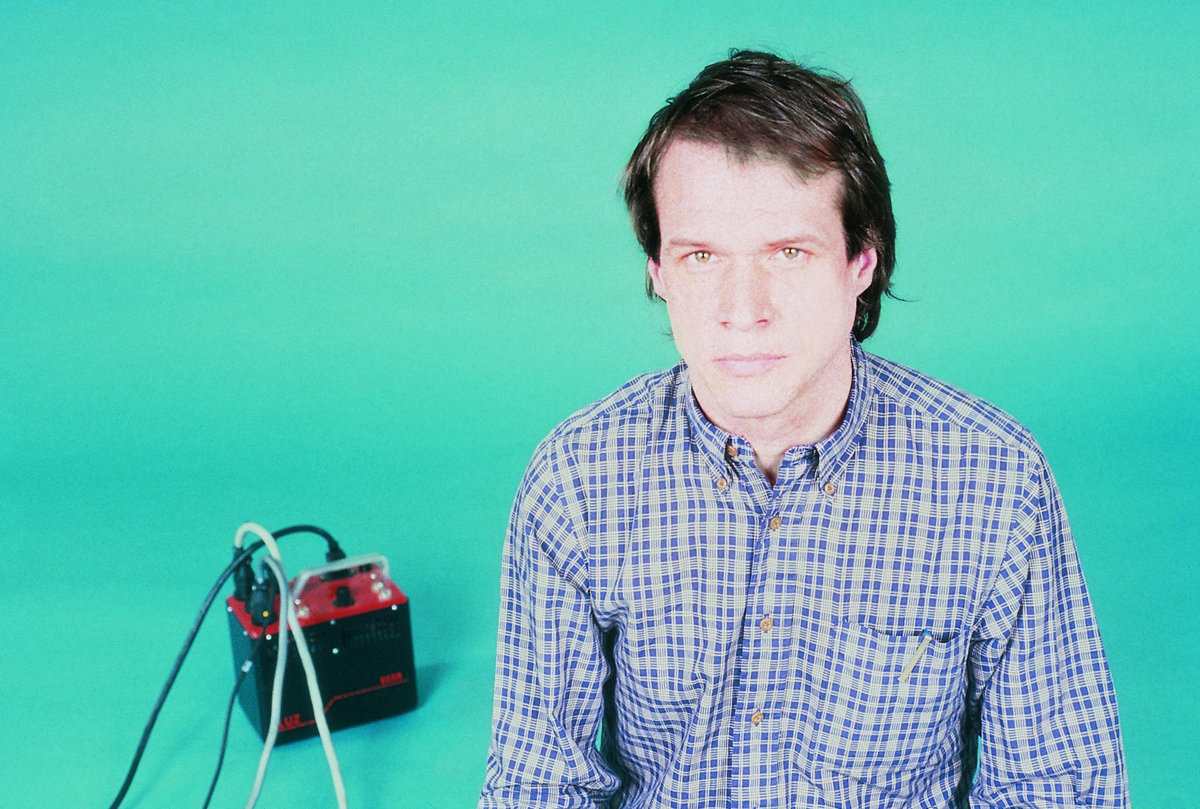 I initially intended to highlight some essential soundtrack albums this week, but while thumbing through records I felt suddenly compelled to celebrate some Arthurs in stead. "Personal paradise" is kinda the phrase that comes to mind for both of these albums. While I'm more of a cold weather head, the liminality of the first real summery day of the season still gives me a shock of almost anxious joy, the kind you feel as a kid on the last day of school, staring down three months of nothing in particular to do (and how rad that felt then). Arthur Verocai will have some serendipitous moments for listeners versed in deep-cut hip hop samples. This album is so damn cool and imbued with the meticulous vibery that Brazilians a la Gilberto, Gil, Costa, Veloso, Jobim, Valle, Mutantes, etc. etc. do so well. A phrase my mom likes to use comes to mind: "take a trip without leaving the farm." This album will have you perspiring like a summer night in Rio– enjoy with a cool drink. First Though Best Thought, more of an ice-cold Miller album, is a collection of long-form vignettes from outsider maestro Arthur Russell. Arthur manages to spin enlightening aural excursions out of deeply personal turmoil, creating breezy meditations that are often as Martian as they are Midwestern. Although this music was released posthumously, it nevertheless feels like a treatise on personal reflection and trusting one's intuition. Just as an aside, "Instrumentals Volume 2 – Part 2" is oddly reminiscent of Fumio Hayasaka's excellent score, and specifically the title track, for Seven Samurai (also highly recommended viewing/listening). – DT
Arthur Verocai – Arthur Verocai
Arthur Russell – First Thought Best Thought
Week Three:  April 10th
FLICK
Don't Look Now, 1973, directed by Nicholas Roeg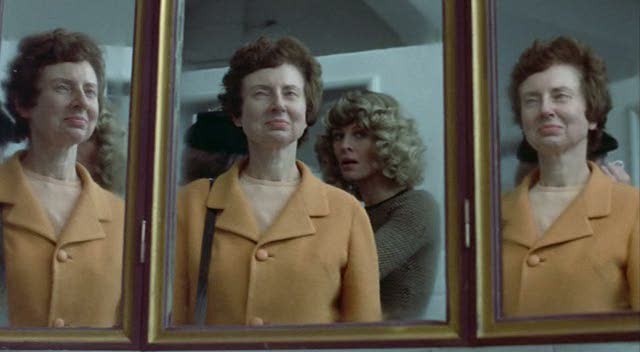 I knew this film intimately, long before I saw it, because my father described it to me, scene by scene, when I was ten. Whether that is tantamount to psychological abuse depends on how you take your movies, and how you like your steak. Regardless, my father's telling, paired with my initial watching of this film, set the tone for my entire creative career.
The movie is based on a short story by Daphne du Maurier. It takes place in eerie, off season Venice, Italy, where Donald Sutherland and Julie Christie have retreated, after the death of their youngest child. But, instead of aiding his healing, Sutherland's grief awakens a dormant clairvoyance in him, and Christie's sense of loss attracts a grim force, in the form of two disturbingly kooky, old ladies, one of whom claims to be in contact with the couple's dead daughter. From there, director, Nick Roeg deftly lays out a creepy enigma that is more about atmosphere and image association than it is coherent. He resolves it with a singularly bleak moment of violence. So be warned. Only, if you're into those wonderfully off-key 70's cinema endings that rattle around in your head for days, should you watch, Don't Look Now. – GJ
PAPERBACK
The Triumph of Life by Jean Day
Curated this week by The Concern Newsstand's Orvokki Crosby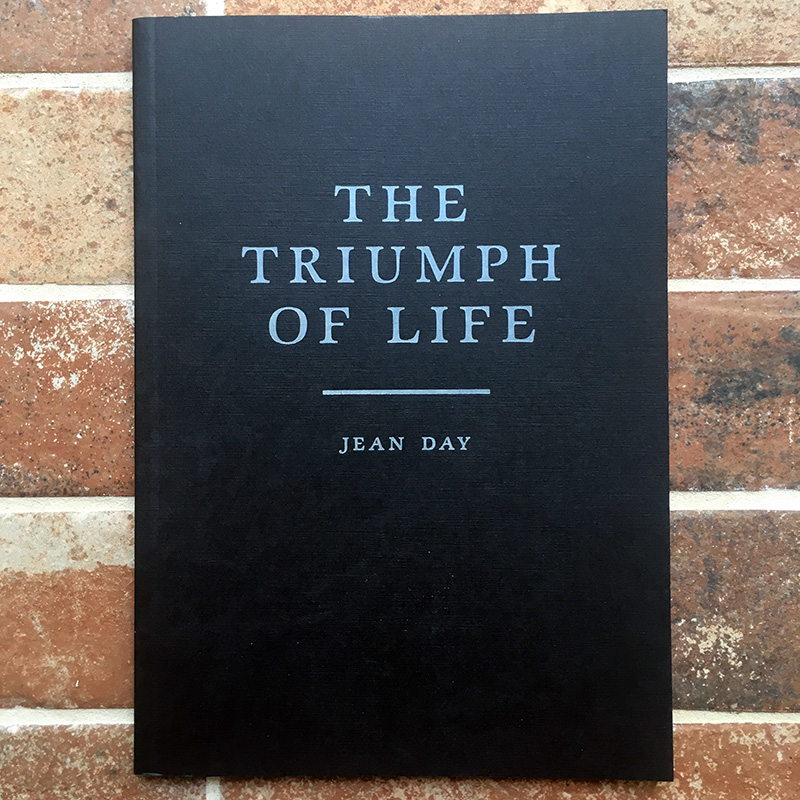 I've been reading more poetry lately (coincidentally it's National Poetry Month) because I am distracted & juggling many things. I like the food for thought poetry brings and it doesn't have to be such a commitment. The three sets of poems in this book by Jean Day look at life with a furious and comic twist. I think now more than ever we need to look at life in a different way and reading how others view it, can be therapy in itself. Jean Day is a published poet living in Berkeley.
– OC
It's available here: https://www.theconcernnewsstand.com/shop/the-triumph-of-life-by-jean-day
SOUND
Krzysztof Penderecki with Don Cherry and the New Eternal Rhythm Orchestra – Actions
Catherine Ribeiro + Alpes – Paix
Bill Withers – Still Bill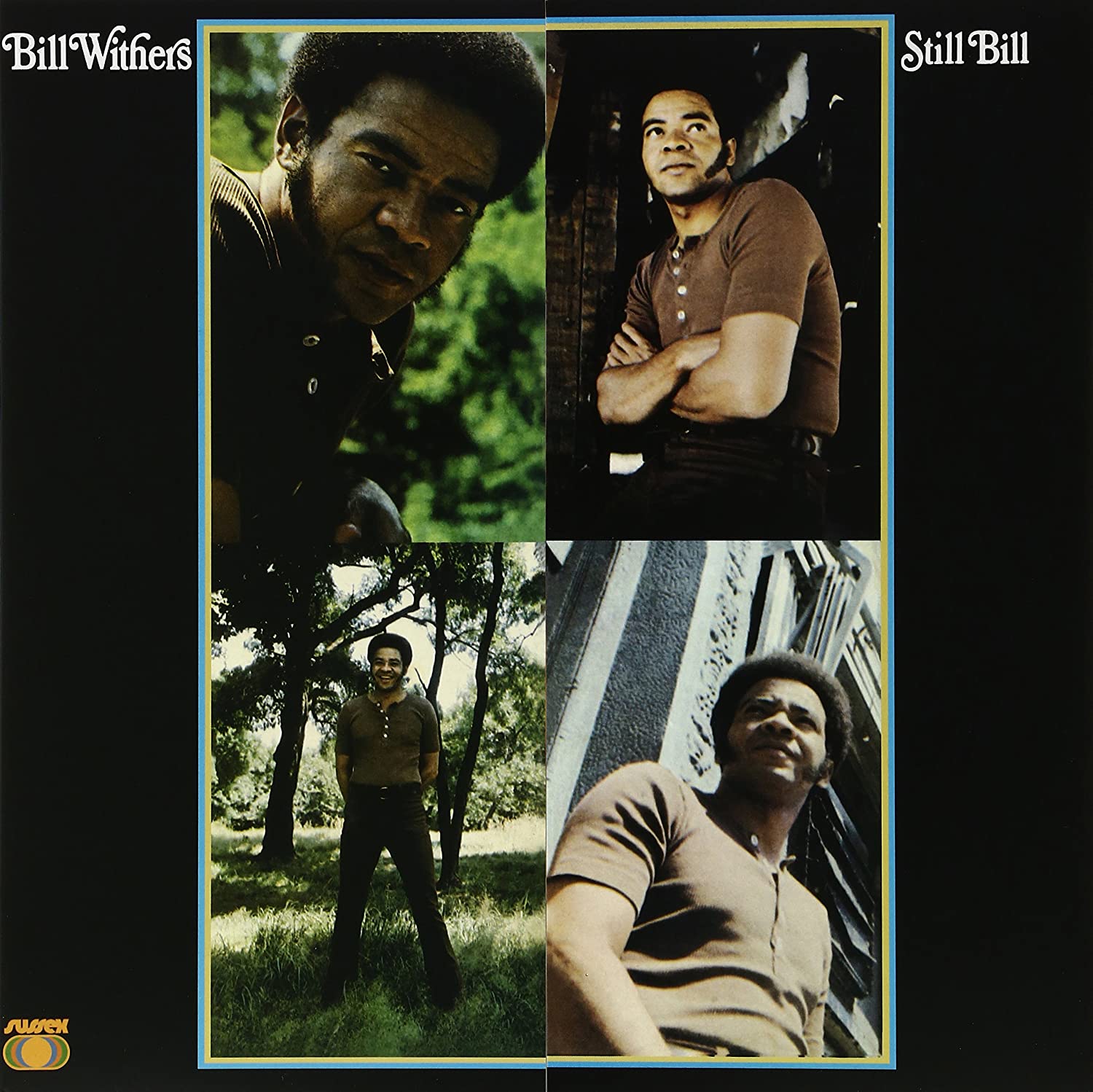 I want to be careful about not using these weekly suggestions to eulogize, given the current mournful void of normalcy we find ourselves in. Perhaps we're beyond the mourning and making new modes of normalcy anyway. Yes, this week's selections are from musical elders that we've lost, or who are facing hardship in these difficult times. Despite being texturally or lyrically morose, chaotic, obtuse or desperate at times, each of these albums feel like an exaltation of the irrepressible creative force of existing in spite of your circumstances. Actions creates something ancient and eternal by germinating the stratospheric spirit of Don Cherry in Krzysztof Penderecki's existential substrate… perhaps that's too graphic; not to be grokked passively. Paix begins deceptively with with two relative vignettes before the atmospheric liturgy of its title track and the side-long expanse of the ecstatic and apt "Un jour… la mort." Catherine Ribeiro is still with us, thank goodness. Bill Withers untangles the psychic labyrinth and brings us back to a sun-warmed stoop in a familiar neighborhood. Not sure how to elaborate on this one, but it feels a lot like inheriting a good jacket from a grandparent– satisfied knowing that it's serving you just as well as it served them. – DT
Krzysztof Penderecki with Don Cherry and the New Eternal Rhythm Orchestra – Actions
Catherine Ribeiro + Alpes – Paix
Bill Withers – Still Bill
Week Two:  April 3rd
FLICK
The Double Life of Veronique, 1991, Directed by Krysztof Kieslowski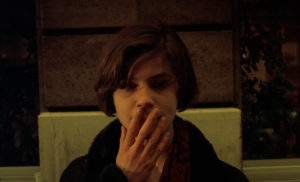 In high school, I was a projectionist at the local indie movie theater, and The Double Life of Veronique was one of the movies that I projected. I  assembled it from six reels into one giant strip of 35mm film, on the projector's feed platter. Then I watched it over and over and over. Each time I ran it, a layer of its construction fell away, revealing yet another. This movie educated me in a way that felt effortless. It's about a drop dead gorgeous, young woman who is haunted by her drop dead gorgeous, doppelgänger. Or is it just her self, looped back in time? I'll never know, but either way, it is, at once, melancholic and joyful. The sheer craft of it is mesmerizing – a style of story telling that director Krystztof Kieslowski evolved into the powerful trilogy titled, Three Colors, which made him internationally famous. The man was an absolute master of both story and form. He died in 1996 at age 54, just as he was starting to fire on all cylinders. There has not been a filmmaker like him since. – GJ
PAPERBACK
Actual Air by David Berman
Curated this week by artist and musician, Harrison Haynes.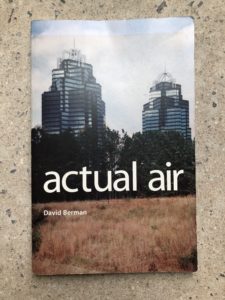 David Berman is one of my favorite artist/musician/poet people. He died last summer. I first saw this book – his first and only book of poetry – the year it came out, in 1999. I had just moved to New York City and had just started listening to the Silver Jews. The cover photograph is by Roe Etheridge. At the time, all of these things conspired to put me in a big, inspired mood and helped me situate myself creatively. My favorite poem is the first one. It's called Snow. It has this one line which got lodged indelibly in my brain:
"When it's snowing, the outdoors seems like a room." – HH
Week One:  March 27th

FLICK
Blood Simple, 1984, directed by Joel and Ethan Coen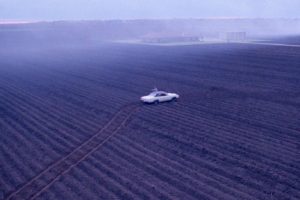 This low budget, Texas, Neo-Noir, is clockwork precise, even though it's the Coen brothers' first crack inwhat is now an incredibly varied and prolific filmography. It helped set the bar for an entirely new style of independent filmmaking, and despite its age, it holds up well, buoyed mostly by the intrepid character actor, M. Emmet Walsh, who enchants us with bizarre facial ticks and a sleazy, Texas drawl. This movie is hypnotic from the very first scene where the cadence is determined by a pair of windshield wipers that wack away viscous drops of rain. If you're looking for an immersive movie that will take you away from the world around you, this is the one. – GJ
PAPERBACK
Dispatches, by Michael Herr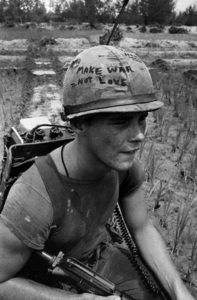 I don't think many people know the influence that Dispatches has had on our collective perception of
war and on our imagining of warfare. This is the book that inspired the trance like madness of
Apocalypse Now and was the direct source of the grim wit that permeates the dialogue in Full Metal
Jacket. It distills Herr's experience as a Vietnam war correspondent into lucid, non-fiction prose that
somehow retains all of the absurdity and fear inspired awe that we all assume to be integral to a
combat soldier's experience. It features photojournalist, Sean Flynn, son of the swashbuckling star,
Errol. In Dispatches, Flynn and Herr ping between battle zones, hitching rides on Huey gunships nearly
as casually as extending a thumb, until Herr is stranded at the infamous siege of Khe Sanh, where the
story reaches a hallucinatory climax. The book can be nibbled, chapter by chapter in a prolonged
meditation on mortality, or it can be swallowed in greedy gulps that it hit you hard, all at once. – GJ
SOUND
Peter Grudzien – The Unicorn
Dracula – Songs of Love & Melancholy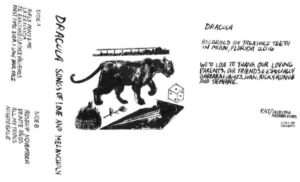 This week, I've got two albums that dance around the themes of Sacred v. Profane, reveling in collective solitude, prophetic hermeticism and meditation on the exalted minutia of the Here & Now. Like a flower from concrete, Peter Grudzien, the "first gay outsider country singer" and lifelong resident of Queens, NY, triumphs through chronic paranoia and makes the marginal magical with the righteous oddity of "The Unicorn." Dorys and Eli, of Miami's Dracula, reanimate the dusty green bones of American folk standards and balladry with a thread-bare but supernaturally elegant romancero lilt on "Songs of Love & Melancholy." Squeezing blood harmony from a stone, this duo managed to quell the aural insanity of 2019's Savage Weekend with a hushed, sublime 20-minute performance I won't soon forget. At any rate, both albums are                      well worth a spin for weary window-gazing. – DT
Peter Grudzien – The Unicorn
Dracula – Songs of Love & Melancholy
(please consider supporting the artists monetarily)
Album art for, Songs of Love & Melancholy, by Dracula