FLICK, PAPERBACK, SOUND
While you're sequestered, look at the bright side. Time suddenly feels like it did when you were ten. It
yawns. It drags. It lays bare, huge swaths of itself. That's an awful prospect when you're a kid, but
knowing what you know now, consider the luxurious reality of having the time to catch up on that back
log of entertainment you've been wishfully adding to for years. Through HIT LIST, Team Lump will share
its entertainment favs with you. We're talking about essential material that has, in some part, defined
our culture, both high and low. So, if your watch list is depleted, you're sick of hearing that nagging ear
worm, or you just ripped through the last of the Travis McGee pulp series, then check in every Friday for
an ever growing list of movies, books and music that are readily available, and wholly satisfying.
FLICK is curated by Lump's director, George Jenne, who also hosts Mystery Meat, a bootleg film series
at Attic 506 in Chapel Hill, every second Friday.
PAPERBACK will have a different curator each week.
SOUND is curated by musician Devon Tuttle.
Week Two:  April 3rd
FLICK
The Double Life of Veronique, 1991, Directed by Krysztof Kieslowski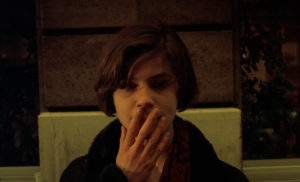 In high school, I was a projectionist at the local indie movie theater, and The Double Life of Veronique was one of the movies that I projected. I  assembled it from six reels into one giant strip of 35mm film, on the projector's feed platter. Then I watched it over and over and over. Each time I ran it, a layer of its construction fell away, revealing yet another. This movie educated me in a way that felt effortless. It's about a drop dead gorgeous, young woman who is haunted by her drop dead gorgeous, doppelgänger. Or is it just her self, looped back in time? I'll never know, but either way, it is, at once, melancholic and joyful. The sheer craft of it is mesmerizing – a style of story telling that director Krystztof Kieslowski evolved into the powerful trilogy titled, Three Colors, which made him internationally famous. The man was an absolute master of both story and form. He died in 1996 at age 54, just as he was starting to fire on all cylinders. There has not been a filmmaker like him since. 
– GJ
PAPERBACK
Actual Air by David Berman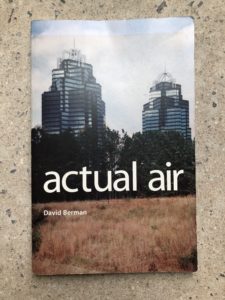 David Berman is one of my favorite artist/musician/poet people. He died last summer. I first saw this book – his first and only book of poetry – the year it came out, in 1999. I had just moved to New York City and had just started listening to the Silver Jews. The cover photograph is by Roe Etheridge. At the time, all of these things conspired to put me in a big, inspired mood and helped me situate myself creatively. My favorite poem is the first one. It's called Snow. It has this one line which got lodged indelibly in my brain:
"When it's snowing, the outdoors seems like a room."
– HH
Curated this week by artist and musician, Harrison Haynes.
Week One:  March 27th

FLICK
Blood Simple, 1984, directed by Joel and Ethan Coen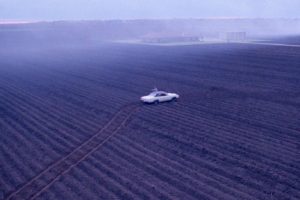 This low budget, Texas, Neo-Noir, is clockwork precise, even though it's the Coen brothers' first crack in
what is now an incredibly varied and prolific filmography. It helped set the bar for an entirely new style
of independent filmmaking, and despite its age, it holds up well, buoyed mostly by the intrepid
character actor, M. Emmet Walsh, who enchants us with bizarre facial ticks and a sleazy, Texas drawl.
This movie is hypnotic from the very first scene where the cadence is determined by a pair of windshield
wipers that wack away viscous drops of rain. If you're looking for an immersive movie that will take you
away from the world around you, this is the one.
– GJ
PAPERBACK
Dispatches, by Michael Herr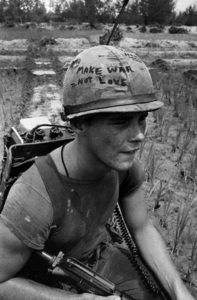 I don't think many people know the influence that Dispatches has had on our collective perception of
war and on our imagining of warfare. This is the book that inspired the trance like madness of
Apocalypse Now and was the direct source of the grim wit that permeates the dialogue in Full Metal
Jacket. It distills Herr's experience as a Vietnam war correspondent into lucid, non-fiction prose that
somehow retains all of the absurdity and fear inspired awe that we all assume to be integral to a
combat soldier's experience. It features photojournalist, Sean Flynn, son of the swashbuckling star,
Errol. In Dispatches, Flynn and Herr ping between battle zones, hitching rides on Huey gunships nearly
as casually as extending a thumb, until Herr is stranded at the infamous siege of Khe Sanh, where the
story reaches a hallucinatory climax. The book can be nibbled, chapter by chapter in a prolonged
meditation on mortality, or it can be swallowed in greedy gulps that it hit you hard, all at once.
– GJ
SOUND
Peter Grudzien – The Unicorn
Dracula – Songs of Love & Melancholy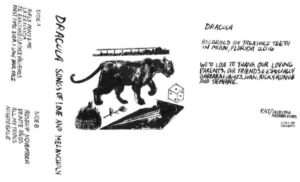 This week, I've got two albums that dance around the themes of Sacred v. Profane, reveling in collective
solitude, prophetic hermeticism and meditation on the exalted minutia of the Here & Now. Like a
flower from concrete, Peter Grudzien, the "first gay outsider country singer" and lifelong resident of
Queens, NY, triumphs through chronic paranoia and makes the marginal magical with the righteous
oddity of "The Unicorn." Dorys and Eli, of Miami's Dracula, reanimate the dusty green bones of
American folk standards and balladry with a thread-bare but supernaturally elegant romancero lilt on
"Songs of Love & Melancholy." Squeezing blood harmony from a stone, this duo managed to quell the
aural insanity of 2019's Savage Weekend with a hushed, sublime 20-minute performance I won't soon
forget. At any rate, both albums are well worth a spin for weary window-gazing.
– DT
Peter Grudzien – The Unicorn
Dracula – Songs of Love & Melancholy (please consider supporting the artists monetarily)
Album art for, Songs of Love & Melancholy, by Dracula